"TPE has asked the right questions and helped us find the answers. They have contributed with vast knowledge and have consistently had a very structured approach to analyzing our needs, requirements and desires. They have shed light on the areas at which it might be critical for us to take a closer look, and in this way they have brought both insight and overview to our non-strategic purchase of travel, conference activity and travel expense management". Kim Henry Jensen, COOP Danmark
Challenge

Lack of overview

Heavy administrative processes and work procedures

Timeconsuming manual processing

Lack of transparency
Solution
Comprehensive and overall solution which covers travel, conferences and expense management.
Result
"COOP has been a member of TPE since 1992, and as late as at the beginning of 2019 we scanned the market thoroughly for alternative providers of travel, conferences and expense management. Not because we were in any way unhappy with TPE, but because we wanted to ensure that we still had the best solution, that not only works well, easily and intuitively for our employees and secretaries, but one that also ensures that we always purchase at the cheapest price, " begins Kim Henry Jensen, Director – Investments & Company Services, COOP Danmark.

"In spite of the many offers we received, we had to conclude that TPE provides the best overall solution which ensures that we do not have to worry about the price. We simply know that they provide us with the best and cheapest options that works for our purchasing patterns. We therefore rest assured that we are collaborating with a purchasing and member association which is so inclusive and well-founded that it cannot be beat in a price match". Today COOP use TPE's full service solution, where TPE handles all travel arrangements and travel expense management, including payment of disbursement and mileage allowance + manages our company's Brobizz-scheme. This means that TPE in a broad sense runs COOP's total travel management - from consulting on travel policy and phrasing it, handling purchasing agreements, including a very large meeting and conference program - to cut-and-dried completed travel expense management.

"One might say that TPE works as a supplementary wage administration for us. For example, anyone with a company car or anyone who requires a lot of mileage allowance, has a brobizz which is automatically integrated with TPE's back-end and SAP Concur. All the employees have to do to get their reimbursement is enter their mileage into the system and wait for their manager to approve it. Usually this does not take more than one day before the transaction is completed, and unlike how it used to be, no one has to wait until the next payroll process. We use one place and one uniform approach for all disbursements - be it fuel, mileage, brobizz, flight tickets or something entirely different", explains Kim Henry Jensen.

"Furthermore, our internal First Cards, which is a Mastercard credit card, are issued by TPE and thus completely integrated and connected with SAP Concur. Therefore we do not use physical receipts/vouchers and manual transactions, but just scan any receipts incurred by purchases made with credit cards." The collaboration with TPE also ensures compliance with all travel policies and internal governance regulations:

"The system handles everything and only shows our employees their actual booking options. This means that the system has a built-in watchdog that easily and safely ensures that we are always in compliance with governance regulations - and this without our employees having to trawl through travel policies and regulations, they can just book and go."
Some of the major advantages to collaborating with TPE is streamlining, transparency, reliability and overview. And in addition to freeing COOP from a heavy administrative burden, which is indeed no small feat with 1400 employees in our main office and a vast amount of disbursements, the automation has also provided us with massive savings".
Kim Henry Jensen, COOP Danmark
"This is why in the summer of 2020 we chose to implement the expenses/disbursement part of the solution in all our stores, so that we now standardise everything in one place and standardise our processes. It is both an intelligent and safe solution, and in my opinion completely unique, because it also provides us with direct access to valid statistics and statements for for example insurance purposes - while at the same time giving us improved overview of internal spend patterns and volume", says Kim Henry Jensen.
In short, it is hard to come up with something about this that doesn't work. Having a partner that takes responsibility and works as a benchmark for the best possible solution is invaluable. At the same time it has also had a big positive effect that COOP and TPE are involved in a good, constructive dialogue concerning everything from GDPR and personal data to taxation and compliance, because this allows us to find the best possible approach going forward together.
During the corona-pandemic TPE has also been a big help, with their regular COVID-19 updates, which has provided our employees with a sense of security. In addition to the purely administrative aspects there is also a sense of safety in having TPE manage our bookings and potential rebookings, and in the knowledge that everything will be solved within a matter of 10 minutes. Corona or not: It just works. And we are beyond happy about it."
Kim Henry Jensen, COOP Danmark
BACK »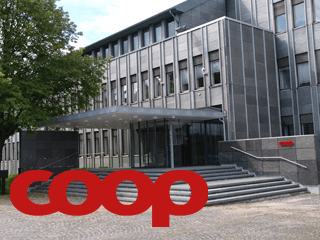 About COOP A/S
COOP is an impressive company in many ways. What started out as a clear-cut business idea that consumers who enter into a cooperative should be able to buy better and cheaper consumer goods, has since transformed and manifested itself as one of the leading food businesses in Denmark.

The story of COOP, which started in 1866 when the first co-op was established in Thisted, has so far resulted in a tight web of 1100 stores across the country, more than 39,000 employees and 1,9 million members.

Today about a third of all foodstuff sold in Denmark is sold in COOP, which has approximately 45,000 item numbers. Furthermore, roughly one tenth of the Danish workforce has at one point been employed in COOP, and COOP is also known as being Denmark's biggest workplace for apprentices/trainees, with approximately 1000 apprentices/trainees. COOP's physical stores include well-known names like SuperBrugsen, Kvickly, Dag'liBrugsen, Irma, Fakta, Coop 365 and FDB Møbler, while the company's online presence consist of shops like coop.dk_MAD and coop.dk_SHOPPING.

Fun fact
On an annual basis, COOP's trucks drive a distance that is the equivalent of 50 trips to the moon and back.

Mailing list
Sign up if you would like to
receive occasional treats
from us.
Follow us on
LinkedIN